01 Sep

The Wheel: Mankind's Greatest Invention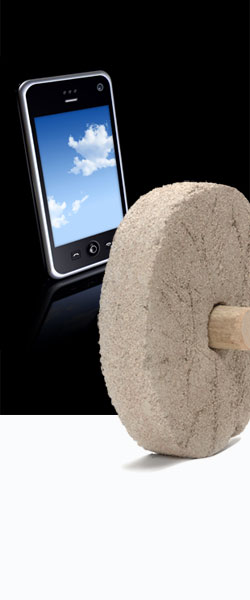 Mobile may not replace the wheel, but its functionality changes the way we work and play.
We are entering a truly exciting time in the development and maturation of the 'online world'. The fact is, the online world is expanding beyond the personal computer into mobile. We have moved beyond the point when personal devices were a walking contact list. The most recent iPhone has nearly the same processing power as the G4 I started Swift Media with – for video production. I had 72 GB of space for my media and no one could imagine what I would do with all that space!
We use our phones to speak on, email, text, surf the web and for Apps. Apps (API: another acronym that's flying around -> Application Programming Interface) In reality, what's happening here is that software and hardware are getting so powerful, we can start creating applications (apps) – really mini-'programs' that can provide any number of functions on a small scale to help your business. Most are used as a link between one software application and another to increase functionality. For instance, to link your web site lead generation with your CRM Database or, as we were recently asked by Apple to explore, as a standalone piece of software that functions on an iPad for a jewelry designer.
Each implementation provides an added level of functionality beyond the one-sided presentations a web site does so perfectly. This allows the user to interact with the application to build/design their own jewelry or so your business can make better use of the information and leads your website can provide.
As devices such as the iPad, Blackberry, Android, and iPhone continue to gain market share and ability, our horizons broaden. The 'mobile' nature of these devices creates two separate situations: we can access and judge information even quicker and easier than ever before and (2) it is more personal than ever before. (As one presenter at OMMA recently put it: I think I kiss this phone more than my wife.)
What does this all mean?
It means there is a tremendous opportunity to provide both utility to customers and profit to businesses. The expanded power of these devices means we will use them more and the expanded amount of software created for these devices means we will use them more. They are quickly becoming more than just gadgets. If you've ever been to the Little League baseball field, organized team moms use them as much as the harried executive that travels cross country. With ingenuity and resourcefulness, a mobile development project will create for your clients an application that exposes them of your business consistently and help make their lives easier. And isn't that something we could all use?